Beaver Area Memorial Library Events
Beaver Area Memorial Library Events
Upcoming Beaver Area Memorial Library Events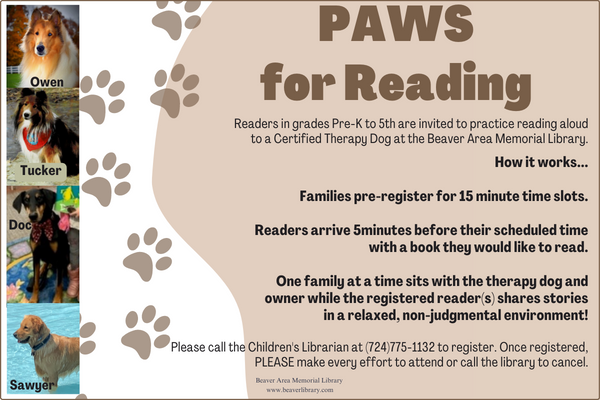 PAWS for Reading
Readers in grades Pre-K thru 5th are invited to practice reading aloud to a Certified Therapy Dog.
Dates vary for each Therapy Dog, call library to check and confirm
at Beaver Area Memorial Library
Must call library to register for a time slot.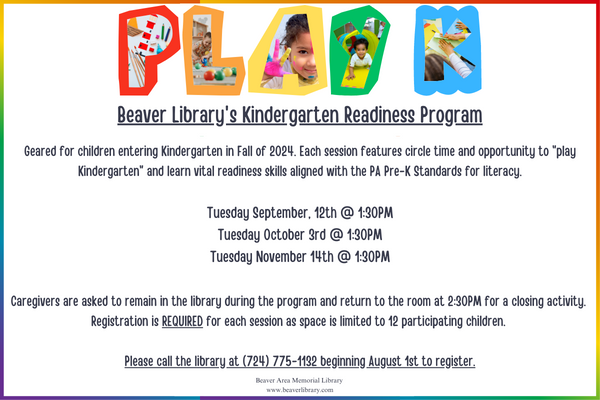 Play K
Geared for children entering Kindergarten in Fall of 2024. Each session features circle time and opportunity to "play kindergarten" and learn vital readiness skills aligned with the PA Pre-K Standards for literacy.
September 12 at 1:30PM
October 3 at 1:30PM
November 14 at 1:30PM
at Beaver Area Memorial Library
Call library to register, space is limited to 12 participants.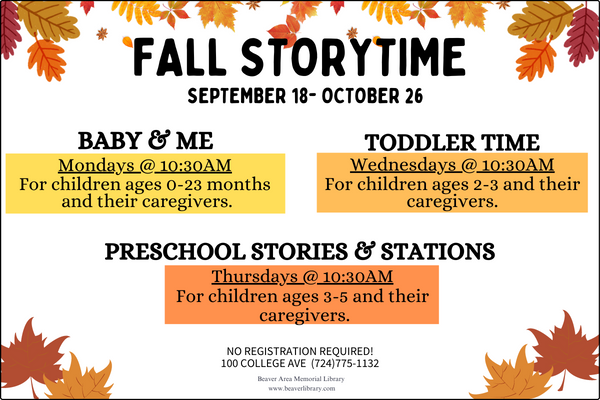 Fall Storytime
Baby & Me on Mondays at 10:30AM for children 0-23 months and their caregivers. Toddler Time on
Wednesdays at 10:30AM. Preschool Stories and Stations on Thursdays at 10:30AM
Beginning September 18 thru October 26th
at Beaver Area Memorial Library
No registration required
Palettes & Pajamas
For ages 4+
Join us for a cozy craft and story.
October 10th 6:30-7:30pm at Beaver Library
Registration required.
Call 724-772-1132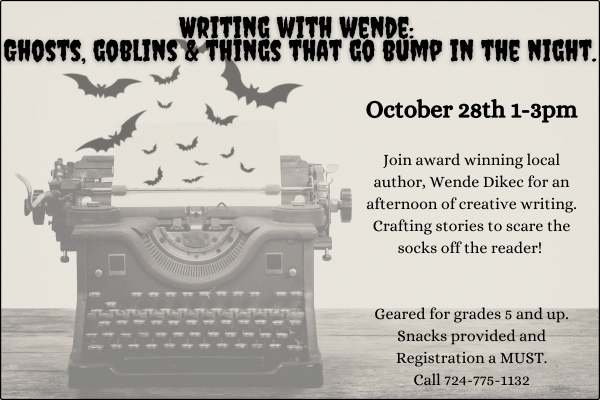 Writing with Wende
Ghosts, Goblins & Things that go bump in the night.
October 28th 1-3pm
Join award winning local author, Wende Dikec for an afternoon of creative writing. Crafting stories to scare the socks off the reader!
Geared for grades 5 and up.
Snacks provided and Registration is a must.
Call 724-775-1132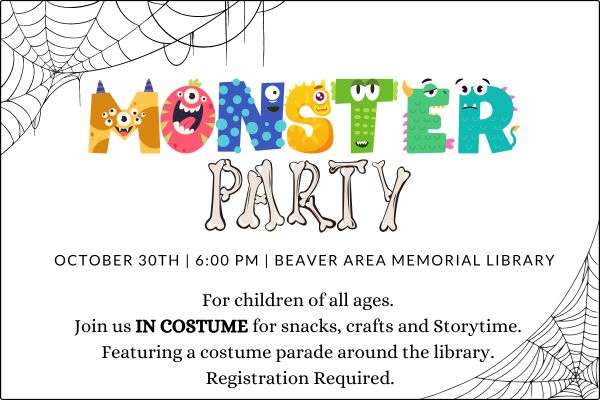 Monster Party
October 30th at 6:00 PM
For children of all ages.
Join us IN COSTUME for snacks, crafts and Storytime.
Featuring a costume parade around the library.
Registration Required.
More events coming soon....
Upcoming System Wide Events
LibraryCON 2023
Third Annual LIBRARYCON
Saturday, October 21, 12-3PM
At the CCBC Dome and Library
More events coming soon....